김미영
Mi Young Kim
Heesoo's mother

January 10th, 1966 ~


Mi Young Kim is Heesoo's mother and was born in 1966 and currently lives in Seoul. She is straightforward and honest, and artistic. She studied fashion design and worked as a lingerie designer before she got married.

She often talks about her childhood memories to her kids, Heesoo and Heesoo's sister, Heewon. Heesoo's mom lived in Oksoo-dong. When she was in elementary school, school ended early on Saturdays, around noon, and when she came back home, her mom, Eun Sook Lee would be making sweet donuts for her kids. They could smell the donuts from the end of the alley. Every Sunday her family cooked huge meals: a huge bag of gochujang bulgogi, a full huge pot of braised tofu, and a hundred sheets of seaweed. Because their household was around 10 people, including all her aunts and uncles, they could finish all the food before noon.

Kim got married to Hyung Woon Kwon when she was 23 years old and they lived together with Kwon's mom. Her married life was quite harsh because she needed to raise her two kids and live with her mother in law. Kim's sisters in-law lived nearby her house and often asked her to take care of their kids too. Kim's husband lived apart from her, because he started to prepare for the judicial examination after quitting his job. This situation was supposed to be temporary, but ended up being ten years. Since Heesoo was 4 years old, the whole family, 5 women, across 4 generations, lived together: Heesoo, Heesoo's younger sister, Heesoo's Mom, Mi Young, her mother-in-law and grandmother-in-law.

When Heesoo was born, Kim's grandmother in law, whom she was taking care of, had dementia, and passed away when Heesoo was 6 years old. Then, when Heesoo was 13 years old, Kim's mother-in-law started to suffer from dementia as well, and passed away when Heesoo was 19 years old. Heesoo's dad didn't know at the time how hard of a life, Kim was living, because he wasn't in the house. After Kim's grandmother-in-law and mother-in-law passed away, Kim thought that she could focus on her own children, Heesoo and Heewon, and thought that life was getting better. Both of her kids were accepted to university in Korea, upon their first application, so Kim thought that there wouldn't be much more that she needed to worry about in the future.

In 2019, when Heesoo was in the United States, after she graduated from U.C. Berkely and was preparing for her first solo show, Heesoo received a call from her sister, Heewon, with the news that their mother, Kim, had cancer.

Kim was able to receive treatment early on for her cancer diagnosis, but Heesoo was very impacted by her mother's health condition. After receiving the news that her mother had cancer, the direction of Heesoo's work changed significantly, as she started to think more about creating some healing processes for her mother, through her artistic practices. Previously, Heesoo's works had focused on family members who had passed away already; however, Heesoo wanted to think more about how to create rituals for her living mother, whose life had suddenly been put into question by the cancer diagnosis.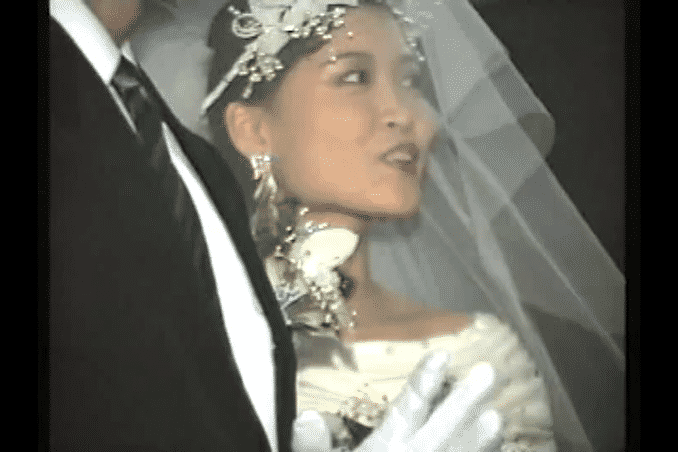 YH visiting Kim's wedding
Kim's metamorphosis with her mom Lee's help
Kim in the Leymusoom utopia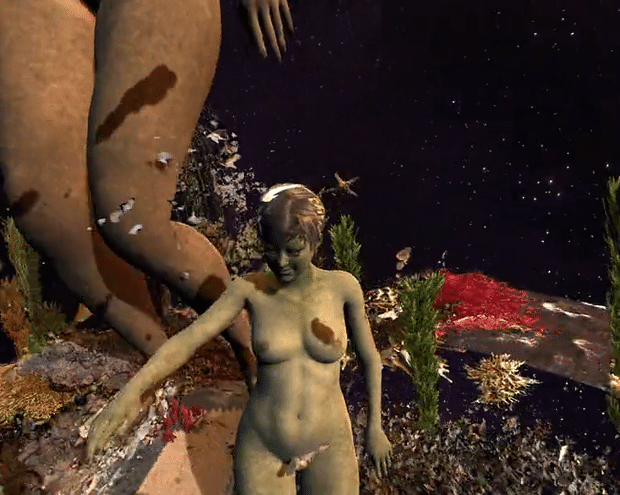 Kim dancing in the Leymusoom utopia
Kim in the Leymusoom utopia,
passing Leymusoom mogyogtang building
Kim talking to Leymusoom in her daughter Heesoo's room